Compline at St David's Episcopal, Austin, Texas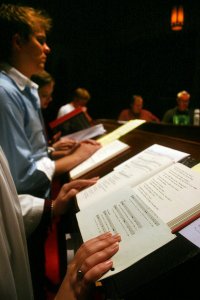 The Compline Choir of St. David's Episcopal Church in Austin, Texas welcomes all to come experience a beautiful half-hour of prayer, candlelight, and worship. The group, which consists of the finest singers in Austin, prepares and shares an ancient liturgy meant to end the day, honoring God and praying for His protection through the night. The group prays and sings the ancient prayers and responsories using Gregorian chant and Tudor motets. Please, join the choir at 8pm each Sunday in St Davids' historic sanctuary at 304 E Seventh St in Austin. See more about the music program at St Davids .
Meet the choir!
On the first Sunday evening of each month, Compline service is followed by a brief reception with refreshments, so that you can greet each other and the choir members.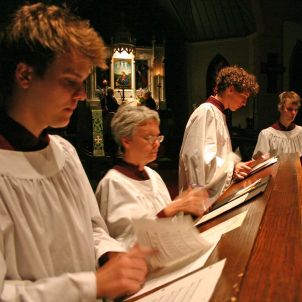 I record these sound files each Sunday evening that I sing with the Compline choir. Lately I am using a TASCAM DR-40 Linear PCM recorder, with the built-in mics. (Before March 2014, I used a MicroTrack 24/96 flash recorder, using the standard little "stereo mic" that comes with it.) I edit the sound file into separate pieces using Audacity, the free audio editor available on the Internet.
If your browser knows how to play mp3 files, you may just be able to click and play these files. Otherwise, you may have to right-click and "Save target as...", and specify a place on your local machine to write the mp3 file. Then you'd play it from there.
Also, if you are a member of the Yahoo group, here's a link so you can easily get to the St. David's Compline Choir complete music listings (created by Howard Burkett): the Yahoo group site.
I hope you enjoy the music! - Susan Richter
The Weekly Listings (most recent first)
go to: 2018 files 2017 files 2016 files 2015 files 2014 files 2013 files 2012 files 2011 files 2010 files 2009 files 2008 files 2007 files 2006 files

4/21/2019

Director: David Stevens
Cantor: Susan Richter
SATB: 2-2-2-2


4/7/2019

Director: Beverly McCune
Cantor: Susan Richter
SATB: 2-1-1-1


Director: David Stevens
Cantor: Joan Carlson
SATB: 2-1-2-2


Sunday, 08/19/2018

Director: David Stevens
Cantor: Joan Carlson


Sunday, 08/12/2018

Director: David Stevens
Cantor: Barbara Manson
SATB: 4-3-2-2


Sunday, 08/05/2018

Director: David Stevens
Cantor: Susan Richter
SATB: 3-2-3-2


(20th Sunday after Pentecost/after St Luke/Eve of St James of Jerusalem)
Conductor: David Stevens
Cantor: Wallace Harwood
SATB: 5-2-3-2


Sunday, 10/01/2017

Director: David Stevens
Cantor: Cristian Cantu
SATB: 4-2-4-2


Sunday, 09/24/2017

Director: Barbara Manson
Cantor: Susan Richter
SATB:


Sunday, 09/10/2017

Director: David Stevens
Cantor: Saul San Juan
SATB: 4-2-2-4


Sunday, 09/03/2017

Director: Howard Burkett
Cantor: Susan Richter
SATB: 2-1-2-2


2017/03/26

Sunday the 26th
Director: David Stevens
Cantors: Will Konitzer, Joan Carlson
Other details unknown

2017/03/12

Details unknown

2017/02/26

Details unknown

2017/02/19

Details unknown

2017/02/05

Cantor/director: David Stevens
Other details unknown

2017/01/29

Sunday the 29th (4th Sunday after the Epiphany)
Director: David Stevens
Cantor: Susan Richter
SATB: 4-2-3-2


2017/01/22

Sunday the 22nd (3rd Sunday after the Epiphany/after the Confession/before the Confession of St Paul)
Director/Cantor: David Stevens
SATB: 3-2-4-3


2017/01/08

Sunday the 8th (1st Sunday after the Epiphany/the Baptism of Jesus)
Director: David Stevens
Cantor: Susan Richter
SATB: 3-1-1-3


Sunday the 23rd (23rd Sunday after Pentecost/St James of Jerusalem)
Director: David Stevens
Cantor: Sawyer Sellars
SATB: 2-1-3-4


2016/02/21

Sunday the 21st (2nd Sunday in Lent/Reminiscere)
Director: David Stevens
Cantor: Susan Richter
SATB: 1-1-3-3


2016/02/07

Sunday the 7th (Last Sunday after the Epiphany/Quinquagesima/Transfiguration Sunday/after Candlemas)
Director: David Stevens
Cantor: Barbara Manson
SATB: 2-2-3-2


2016/01/31

Sunday the 31st (4th Sunday after the Epiphany/Sexagesima/before Candlemas)
Director: Howard Burkett
Cantor: Bev McCune
SATB: 3-2-2-2


2016/01/03

Sunday the 3rd (2nd Sunday in Christmastide)
Director: David Stevens
Cantor: Barbara Manson
SATB: 2-3-2-3


Sunday the 20th (4th Sunday of Advent/eve of St Thomas)
Director: David Stevens
Cantor: Bev McCune
SATB: 2-3-3-2


2015/11/29

Sunday the 29th (1st Sunday of Advent)
Director: David Stevens
Cantor: Wallace Harwood
SATB: 1-1-1-2


2015/11/15

Sunday the 15th (25th Sunday after Pentecost)
Director: David Stevens
Cantor: Neil Burgess
SATB: 2-5-2-2


2015/11/01

Sunday the 1st (All Saints' Day/23rd Sunday after Pentecost)
Director: David Stevens
Cantor: Susan Richter
SATB: 1-2-2-3


2015/10/18

Sunday the 18th (21st Sunday after Pentecost/St Luke)
Director: David Stevens
Cantor: Eric Johnson
SATB: 2-3-2-3


2015/10/04

Sunday the 4th (19th Sunday after Pentecost)
Director: David Stevens
Cantor: A P Perry
SATB: 2-4-2-2


2015/09/27

Sunday the 27th (18th Sunday after Pentecost/before Michaelmas)
Director: David Stevens
Cantor: Barbara Manson
SATB: 2-3-2-1


2015/09/20

Sunday the 20th (17th Sunday after Pentecost/Eve of St Matthew)
Director: David Stevens
Cantor: Bev McCune
SATB: 2-3-2-1


2015/09/13

Sunday the 13th (16th Sunday after Pentecost/Eve of Holy Cross)
Director: Howard Burkett
Cantor: Susan Richter
SATB: 1-3-1-1